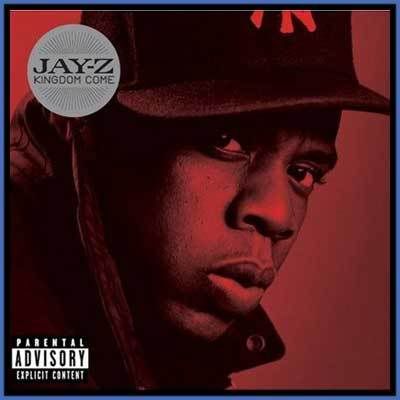 Kingdom Come was the first Jay-Z album released since 2003's The Black Album, which had been widely hyped as Jay-Z's "retirement" album. The video for that album's hit single "99 Problems" had ended with Jay-Z going down in a hail of gunfire. Jay-Z stated in interviews that that scene represented the "death" of Jay-Z and the "rebirth" of Shawn Carter. Because of this, Jay-Z had originally planned to release Kingdom Come under the name of Shawn Carter, but decided in the end to release it under his more-famous stage name.
Jay-Z's second single, "Lost One" (produced by Dr. Dre) addresses Jay's split with Roc-A-Fella co-founder Damon Dash, the death of his nephew, and supposedly his relationship with Beyoncé.
Past collaborators Kanye West and particularly Just Blaze made significant contributions to the album's production. This is the first time Dr. Dre has played a substantial role in a Jay-Z album, as he produced four beats and mixed every song on the album. Relatively unknown newcomers B-Money, Scyience, and DJ Khalil also contributed to the album's production, as well as Coldplay lead singer Chris Martin.
Kingdom Come's opening track "The Prelude" features the additional vocals and the return of Pain in da Ass who often featured on some of Jay-Z's earlier album introductions impersonating characters from movies such as Scarface, GoodFellas, and Carlito's Way. This sample music in the background is also used on the Quasimoto track, "Axe Puzzles" off the 2000 The Unseen.
The Album received positive reviews from most critics.
Carl Crawford uses "Dig a Hole" as one of his entrance songs when he comes up to bat. FOX used an instrumental version of "Oh My God" in a promo leading up to the 6th season premiere of 24.
The name of the album was inspired by a comic book story in which a nearly elderly Superman comes out of retirement to show the heroes of the future what a true hero really is.
Track Listings:
1 "The Prelude"
2 "Oh My God"
3 "Kingdom Come"
4 "Show Me What You Got"
5 "Lost One"
6 "Do U Wanna Ride"
7 "30 Something"
8 "I Made It"
9 "Anything"
10 "Hollywood"
11 "Trouble"
12 "Dig a Hole"
13 "Minority Report"
14 "Beach Chair"
Bonus Disc:
1 "Politics As Usual"
2 "Can't Knock The Hustle"
3 "Can I Live"
Released: November 21, 2006
Recorded: 2006
Genre: East Coast hip hop Mafioso rap
Label: Roc-A-Fella/Island Def Jam
Producer: Jay-Z (Exec.) Dr.Dre (Co-exec.) B-Money, Just Blaze, Dr. Dre, Kanye West, DJ Khalil, The Neptunes, Scyience, Swizz Beatz, Chris Martin
Download:
No password.
Enjoy!!