Jim Butcher - Furies of Calderon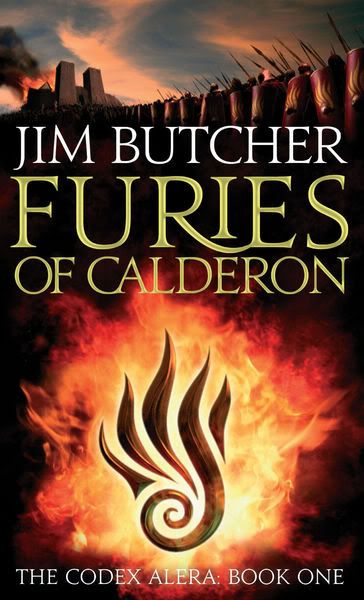 MP3 | 549 MB | 64 kbps
At the start of Butcher's absorbing fantasy, the first in a new series, the barbarians are at the gates of the land of Alera, which has a distinct flavor of the Roman Empire (its ruler is named Quintus Sextus and its soldiers are organized in legions). Fortunately, Alera has magical defenses, involving the furies or elementals of water, earth, air, fire and metal, that protect against foes both internal and external. Amara, a young female spy, and her companion, Odiana, go into some of the land's remoter territories to discover if military commander Atticus Quentin is a traitor—another classic trope from ancient Rome. She encounters a troubled young man, Tavi, who has hitherto been concerned mostly with the vividly depicted predatory "herdbanes" that threaten his sheep as well as with his adolescent sexual urges (handled tastefully). Thinking that Amara is an escaping slave, Tavi decides to help her and is immediately sucked in over his head into a morass of intrigues, military, magical and otherwise. Butcher (Storm Front, etc.) does a thorough job of world building, to say nothing of developing his action scenes with an abundance of convincing detail.
Download:
Jim Butcher - Academ's Fury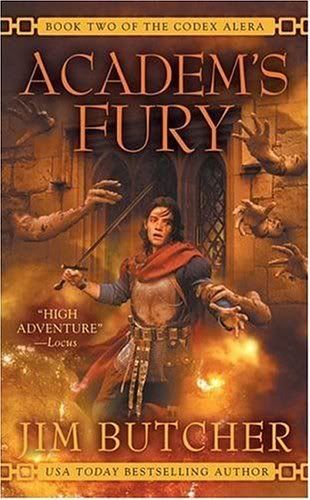 MP3 | 577 MB | 64 kbps
Tavi, the young hero of Furies of Calderon (2004), is now in the capital, ostensibly serving as a page but secretly training to become a spy. When the first lord falls to a sorcerous attack, Tavi and his closest friends and teachers must conceal the lord's condition lest the realm fall into civil war. In the Calderon Valley, a long--forgotten horror awakens and heads for the heart of Alera, while Tavi's closest relative, the newly appointed Steadholder Isana, faces at least two sets of assassins. This is a fine coming-of-age, fantasy-action novel. The characterizations are excellent, and the plotting is very well developed. The second book of the Codex Alera, though not as exciting as Furies, includes plenty of action, and Butcher provides enough background so that it can be enjoyed without having read its predecessor.
Download:
Jim Butcher - Cursor's Fury
MP3 | 564 MB | 64 kbps
The power-hungry High Lord of Kalare has launched a rebellion against the aging First Lord, Gaius Sextus, who with the loyal forces of Alera must fight beside the unlikeliest of allies-the equally contentious High Lord of Aquitaine.
Meanwhile, young Tavi of Calderon joins a newly formed legion under an assumed name even as the ruthless Kalare unites with the Canim, bestial enemies of the realm whose vast numbers spell certain doom for Alera. When treachery from within destroys the army's command structure, Tavi finds himself leading an inexperienced, poorly equipped legion-the only force standing between the Canim horde and the war-torn realm.
Download:
Jim Butcher - Captain's Fury
MP3 | 810 MB | 96 kbps
After two years of bitter conflict with the hordes of invading Canim, Tavi of Calderon, now Captain of the First Aleran Legion, realizes that a peril far greater than the Canim exists-the terrifying Vord, who drove the savage Canim from their homeland. Now, Tavi must find a way to overcome the centuries-old animosities between Aleran and Cane if an alliance is to be forged against their mutual enemy. And he must lead his legion in defiance of the law, against friend and foe-before the hammerstroke of the Vord descends on them all.
Download:
Jim Butcher - Princeps' Fury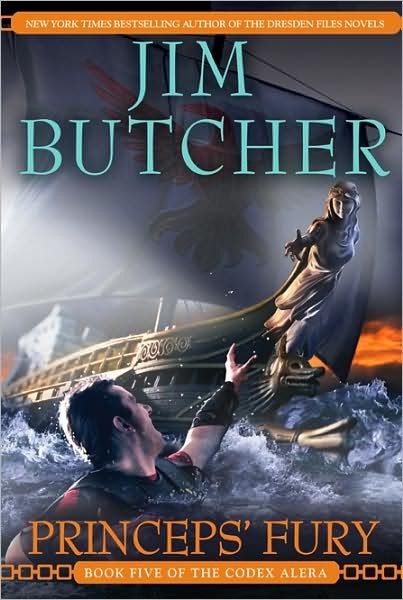 MP3 | 488 MB | 64 kbps
Tavi of Calderon, now recognized as Princeps Gaius Octavian and heir to the crown, has achieved a fragile alliance with Alera's oldest foes, the savage Canim. But when Tavi and his legions guide the Canim safely to their lands, his worst fears are realized.
The dreaded Vord—the enemy of Aleran and Cane alike—have spent the last three years laying waste to the Canim homeland. And when the Alerans are cut off from their ships, they find themselves with no choice but to fight shoulder to shoulder if they are to survive.
For a thousand years, Alera and her furies have withstood every enemy, and survived every foe.
Download:
Jim Butcher - First Lord's Fury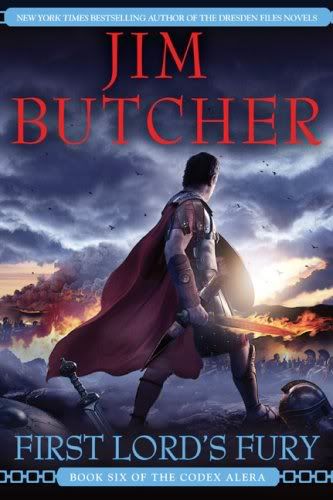 MP3 | 671 MB | 64 kbps
For years he has endured the endless trials and triumphs of a man whose skill and power could not be restrained. Battling ancient enemies, forging new alliances, and confronting the corruption within his own land, Gaius Octavian became a legendary man of war - and the rightful First Lord of Alera.
But now, the savage Vord are on the march, and Gaius must lead his legions to the Calderon Valley to stand against them - using all of his intelligence, ingenuity, and furycraft to save their world from eternal darkness.
Download:
Jim Butcher - Storm Front
MP3 | 193 MB | 56 kbps
s in the audio adaptation of Butcher's first Dresden Files novel, Storm Front, Marsters (who played Spike on Buffy the Vampire Slayer) slips easily into the role of down-on-his-luck wizard Harry Dresden. Marsters's self-deprecating tone fits the character perfectly; he reads with a dry, ironic humor that doesn't mask Harry's genuine concern for the lives of innocents. Marsters also displays a remarkable skill for lending even the strangest characters and creatures voices-including gentleman gangster Johnny Marconi, his henchmen, a sexy female werewolf and Bob, the British-accented talking skull. In this outing, Harry is again out of cash, and police detective Karrin Murphy, who's still angry at him over the events of the first book, isn't inclined to throw work his way. But soon a series of mysterious, violent murders sends her to Harry for help. Are the killings the work of a local motorcycle gang? Or a werewolf-and if so, which werewolf? Mac Finn, the werewolf environmentalist? The group of idealistic college kids who voluntarily become werewolves by night? Or the trigger-happy group of FBI agents turned werewolf vigilantes? Though the price of this audio package may put off some listeners, Marsters's lively telling makes it worth every penny.
Download:
Jim Butcher - Fool Moon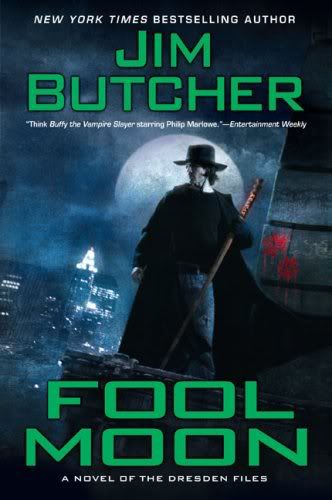 MP3 | 243 MB | 56 kbps
After reading the first in this series "Storm Front" I had come to believe that the comic ineptness of Harry Dresden, the only wizard in the Chicago phone book (or any other phone book for that matter) was due more to the inexperience of the author than it was intentional. At that time, I thought the basic premise of the plot was serious. After all, people die when Harry gets things wrong. Well, it appears that I was wrong. Jim Butcher has clearly created one of the strangest wizards in detective fiction.
Download:
Jim Butcher - Grave Peril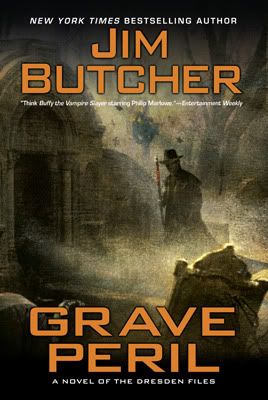 MP3 | 280 MB | 56 kbps
Wizard Harry Dresden stars in the third installment of the Dresden Files (following Fool Moon), a haunting, fantastical novel that begins almost as innocently as those of another famous literary wizard named Harry. In the opening scene, Dresden and his knight friend, Michael, battle the ghost of a woman who is terrorizing a local hospital's maternity ward. From there, the novel quickly evolves into an unorthodox tale spiced with sexual innuendo and subtle humor (Dresden carries his ghost-hunting gear in an old Scooby-Doo lunch box). Due to the weakened barrier between the spirit world which Butcher refers to as "the nevernever" and the actual world, obsessive and violent ghosts are on the loose in modern-day Chicago, and they seem to be targeting Dresden and Michael.
Download:
Jim Butcher - Summer Knight
MP3 | 613 MB | 128 kbps
Harry Dresden's faced some pretty terrifying foes during his career. Giant scorpions. Oversexed vampires. Psychotic werewolves. All par for the course for Chicago's only professional wizard. But in all Harry's years of supernatural sleuthing, he's never faced anything like this: the spirit world's gone completely postal. All over Chicago, ghosts are causing trouble-and not just of the door-slamming, boo-shouting variety. These ghosts are tormented, violent, and deadly. Someone-or something-is stirring them up to wreak unearthly havoc. But why? And why do so many of the victims have ties to Harry? If Harry doesn't figure it out soon, he could wind up a ghost himself.
Download:
Jim Butcher - Death Masks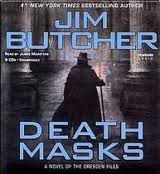 MP3 | 271 MB | 56 kbps
Harry Dresden is not having a good day. A vampire named Ortega is hunting the beleaguered wizard, intending to challenge him to a duel that, Ortega claims, will end the war between the vampires and the wizards. Harry has almost no hope of winning the duel, but soon he is preoccupied by another problem: Father Vincent, a priest, needs Harry's help in finding the Shroud of Turin, stolen by a trio of thieves. Harry traces two of the thieves to his hometown, Chicago, but when he finds them, he learns that he isn't the only one after them. A group of terrifying demons wants the shroud, and its leader is interested in Harry's soul, too. Harry must call on all of his friends, including three brave knights, his police-officer friend, and even his half-vampire ex-girlfriend, Susan. Butcher maintains a breakneck pace in Harry's exciting fifth adventure. This imaginative series continues to surprise and delight with its inventiveness and sympathetic hero.
Download:
Jim Butcher - Blood Rites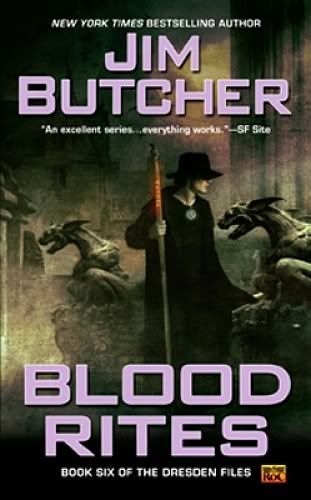 MP3 | 720 MB | 128 kbps
Once Blood Rites gets underway it is filled with so much action, great characters and interesting story lines that it might be easy to miss those times that Harry Dresden is discovering things about himself.
When Thomas Wraith, a vampire of the White Court approaches Harry to take a case it does not seem like it will be too tough to handle. Wizard Harry Blackstone Copperfield Dresden should have had the uncommon sense to know better. Harry finds he needs to go undercover in order to discover who is putting a curse on an adult entertainment movie production company. Harry delves into the case but the body count just keeps rising. Soon Harry himself is a suspect and to make matters worse it looks like he has stumbled into the crossfire of a vampiric civil war. While working to uncover the source of the curse on the production company as well as extricate himself from warring vampire courts he learns some very unsettling information about his own family.
Download:
Jim Butcher - Dead Beat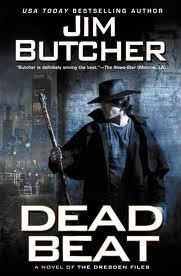 MP3 | 541 MB | 84 kbps
Harry Dresden's first hardcover adventure finds Chicago's preeminent wizard coping with his new roommate--vampire half-brother Thomas. Harry soon has problems bigger than Thomas' clutter to deal with. Marva, one of Harry's vampire foes, summons him with a threat to his police-lieutenant friend, Karrin Murphy. Marva demands Harry get the Word of Kemmler for her, or she'll frame Murphy for murder. Harry doesn't even know what the Word is, but while he's trying to find out, and also what damage Marva will be able to do with it, several necromancers descend on Chicago. When Harry learns that the newcomers are students of Kemmler, an evil wizard who mastered ancient spirits in a way no one has since, he discovers that they are seeking the Word, too, in hopes of seizing the powerful knowledge within it and calling forth a powerful creature known as the Erlking. Butcher's latest maintains the momentum of previous Dresden outings and builds the suspense right up to a rousing conclusion.
Download:
Jim Butcher - Proven Guilty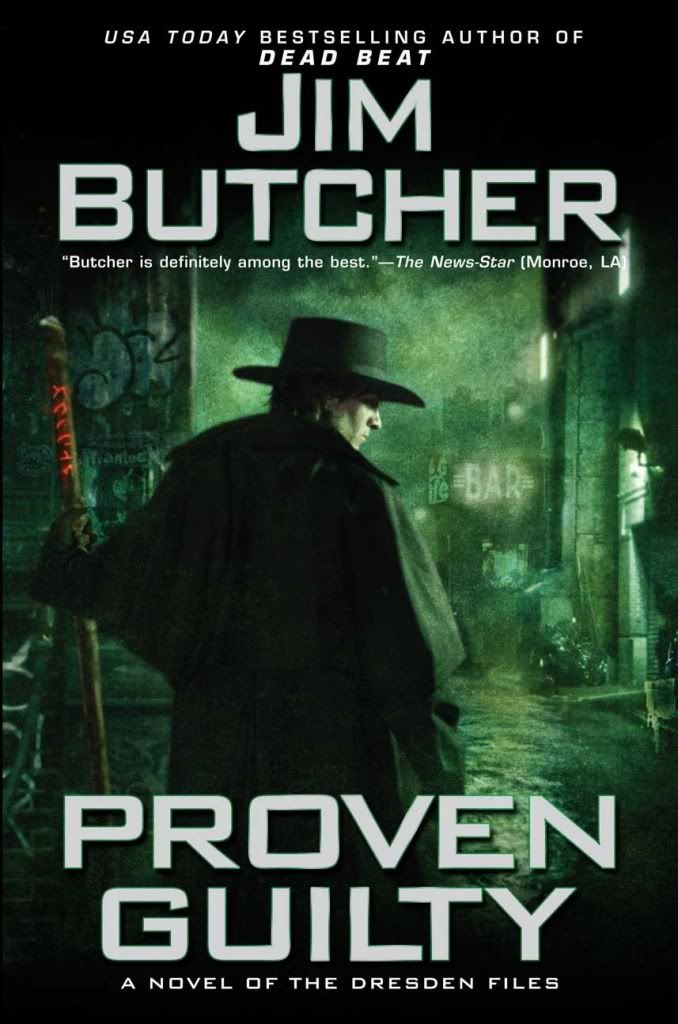 MP3 | 668 MB | 95 kbps
Harry Dresden, Chicago's only consulting wizard, takes on phobophages, creatures that feed on fear who attack a horror film convention, in the diverting eighth installment of Butcher's increasingly complicated Dresden Files series (Dead Beat, etc.). Harry finds that fighting monsters is only the prelude to maneuvers amid the warring wizards of the White Council and the vampire Red Court. Less and less V.I. Warshawski with witchcraft, Harry aims his deductive powers at political intrigues rather than crime solving. The body count from the magical melees, however, would do any hard-boiled gumshoe proud. Butcher's believable, likable set of characters go for the jocular much more than the jugular. Deeper fears do run through the book, and Harry, taking on an apprentice, has to face up to the consequences of his all-too-human failings.
Download:
Jim Butcher - White Night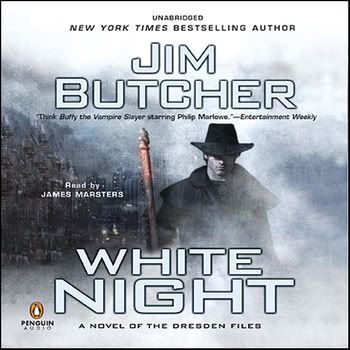 MP3 | 390 MB | 64 kbps
At the start of Butcher's superlative ninth Dresden Files novel (after 2006's Proven Guilty), hardboiled wizard detective Harry Dresden learns that someone is killing Chicago's minor wizards. Joined by his police friend, Sergeant Murphy, and his Amazonian apprentice, Molly Carpenter, Harry discovers that his brother, Thomas, is a prime suspect. As a Warden of the White Council, at war with both the Red Court of blood-drinking vampires and the White Court of psychic vampires, Harry has to go into action. And there's plenty of that, including a battle with ghouls on the lakefront that turns into a gripping flashback of another encounter with ghouls some years before in New Mexico. The large cast features such finely drawn characters as gangster Gentleman Johnnie Marcone and Harry's first love, Elaine Mallory.
Download:
Jim Butcher - Small Favor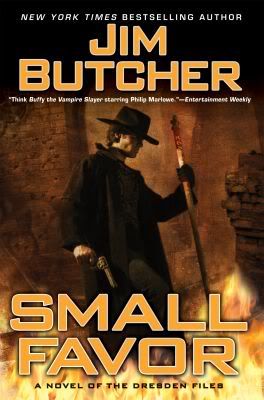 MP3 | 191 MB | 32 kbps
Intricate yet accessible plotting and near-Arctic winter weather mark the 10th Harry Dresden adventure from bestseller Butcher (after 2007's White Night). A friendly snowball fight opens the Chicago-based wizard-detective's latest tale, but it's not long before a host of more dangerous foes are out for Harry's blood. A missing human mobster is said to be seeking greater influence among Chicago's extranormal population, but the true threat proves both more subtle and of much greater consequence. Butcher smoothly manages a sizable cast of allies and adversaries, doles out needed backstory with crisp efficiency and sustains just the right balance of hair's-breadth tension and comic relief. Encounters with a series of increasingly dangerous Billy Goats Gruff unfold with particular cleverness, and key developments involving Sgt. Karrin Murphy, Harry's reluctant police liaison, will intrigue seasoned fans as well as newcomers attracted by last year's TV adaptation of the series.
Download:
Jim Butcher - Turn Coat
MP3 | 416 MB | 64 kbps
The search for a traitor in the highest circles of power forms the main plot thread of Butcher's 11th hard-boiled fantasy novel featuring Chicago's wizard detective Harry Dresden (last seen in 2008's Small Favor). Harry, a warden of the magic-governing White Council, finds himself in an unusual position when Morgan, his fellow warden and frequent antagonist, asks for his help. One of the White Council's leaders has been murdered, and Morgan was found at the scene of the crime holding the murder weapon. If he has been framed, then another senior wizard is behind the killing and may be trying to destroy the council entirely. Aided by werewolf and vampire allies, Dresden investigates with his trademark sardonic noir flair. Despite the sprawling plot, both fans and newcomers will get into the fast-paced action.
Download:
Jim Butcher - Changes
MP3 | 319 MB | 48 kbps
The fast-paced and compelling 12th book in Butcher's bestselling series (after 2009's Turn Coat) is aptly titled. Beginning with the revelation that wizard detective Harry Dresden has a daughter, Butcher throws one high-stakes curveball after another at his hero. Harry's ex-girlfriend, Susan Rodriguez, discloses young Maggie's existence after vampire Red Court duchess Arianna Ortega kidnaps the child. Ortega holds Harry responsible for the death of her husband and is planning to offer Maggie as a human sacrifice. With a fragile peace in place between the Red Court and the White Council of wizards, Harry is unable to count on them for support in his rescue mission, and he must compromise almost everything he believes in to save his daughter. Butcher is deft at relieving some of the tension and grimness with bursts of gallows humor that keep readers coming back for more.
Download:
Jim Butcher - Cold Days
MP3 | 807 MB | 128 kbps
After being murdered by a mystery assailant, navigating his way through the realm between life and death, and being brought back to the mortal world, Harry realizes that maybe death wasn't all that bad. Because he is no longer Harry Dresden, Chicago's only professional wizard.
He is now Harry Dresden, Winter Knight to Mab, the Queen of Air and Darkness. After Harry had no choice but to swear his fealty, Mab wasn't about to let something as petty as death steal away the prize she had sought for so long. And now, her word is his command, no matter what she wants him to do, no matter where she wants him to go, and no matter who she wants him to kill.
Download:
Jim Butcher - Ghost Story
MP3 | 985 MB | 128 kbps
When we last left the mighty wizard detective Harry Dresden, he wasn't doing well. In fact, he had been murdered by an unknown assassin.
But being dead doesn't stop him when his friends are in danger. Except now he has nobody, and no magic to help him. And there are also several dark spirits roaming the Chicago shadows who owe Harry some payback of their own.
To save his friends-and his own soul-Harry will have to pull off the ultimate trick without any magic...
Download: