Company of Heroes Tales of Valor

Quote:
* Title: Company of Heroes: Tales of Valor
* Release Date: April 09, 2009
* ESRB Rating: Mature
* Players: 1-8
* Playable Factions: Allies (American), Axis (German), British 2nd Army, German Panzer Elite
Quote:
Company of Heroes: Tales of Valor is the second expansion to the Game of the Year winner and highest rated real time strategy franchise Company of Heroes. Embark on the definitive WWII experience with three immersive storylines told from both sides of the frontlines. Control Tiger Tank Ace Hauptmann Voss's highly decorated Tigergruppen against the British 7th Armored Division. Command an American Paratrooper Company in the hours following the initial D-Day landings. Lead the battle-hardened Wehrmacht Army in a desperate attempt to hold off the advancing Allied army.
Quote:
* Direct Fire Control - Directly control your units to aim, fire, and maneuver in real-time to capitalize on the changing battle conditions
* Command New Units - Command new vehicles including the amphibious Schwimmwagen off-road vehicle and the Staghound 4x4 Armored Car
* Conquer New Territory - Battle across new multiplayer maps based on famous battles such as Villers-Bocage
* New Multiplayer Modes - Become a tank commander and square off in Panzerkrieg, choose a hero unit and join the battle to push the enemy lines in Assault, or team up and defend against waves of attackers in Stonewall
Minimun
Quote:
System: Pentium IV 3.0 GHz or equivalent
RAM: 1024 MB
Video Memory: 256 MB
Hard Drive Space: 9 MB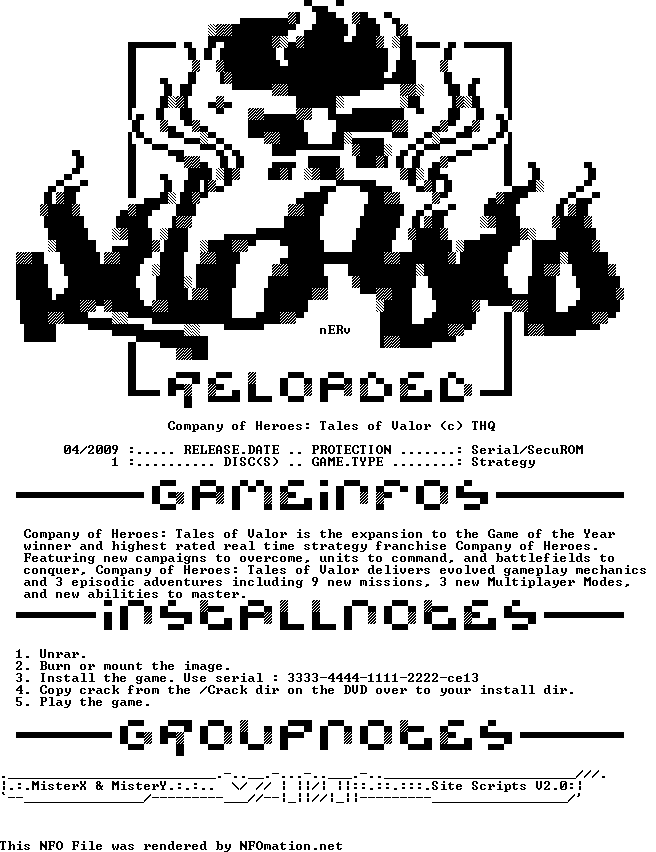 Company of Heroes : Tales of Valor v2.601 Patch and Crack
Quote:
Install Notes

# Install the game - Full Installation.
# Apply the official CoH: Tales of Valor v2.601 Patch.
# Replace the original <GameDir>\RELICCOH.EXE & <GameDir>\VALIDATORS\UDRO\UDRO.DLL files with the ones from the File Archive.
# Play the Game!
Size : 208 MB
10% Recovery Record
Size : 8.55 GB
1 GB Links! | Interchangeable Mirrors
400 MB Links! | Interchangeable Mirrors