Final Draft v8.0.2 Build 118 Win All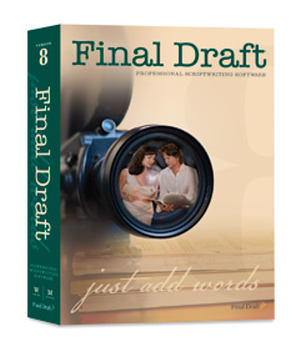 Use your creative energy to focus on the content; let Final Draft take care of the style. Final Draft is the number-one selling application specifically designed for writing movie scripts, television episodics, and stageplays. It combines powerful word processing with professional script formatting in one self-contained, easy-to-use package. There is no need to learn about script formatting rules – Final Draft automatically paginates and formats your script to industry standards as you write.

New features include Text Highlighting, Spotlight Search (Mac only), and newly added templates. Perhaps the most practical new tool is the Send to Script feature. "This feature is extremely useful since it allows the user to select one or more individual Index Card Summaries and copy the content directly into the script," states John Cornelius, CTO at Final Draft, Inc.

Another valuable addition is the new 1-3-5 Story Structure outlining template. "The 1-3-5 template is based on the book it is named for which guides writers through the nine essential elements needed to sell their first script," says Alejandro Seri, Final Draft, Inc. Director of Corporate Marketing. Created by the book's author and former story analyst, Donna Michelle Anderson (aka DMA), this template will offer writers insider assistance from the screenplay buyer's point-of-view and more. "Final Draft, Inc. plans to offer tutorials and webinars with DMA to further educate writers on the 1-3-5 system and how it can apply to any script," adds Seri.

Some of the most notable improvements to the software have been with the Script Compare, Print to PDF, and Locked Pages/Revision Mode features. All of the improvements and added enhancements have been based on user feedback.






Installation Notes:

Read Included .nfo/txt file(s)

PLATFORM: Windows ALL
FILE(S) : 41mb
COMPRESS: WinRar - Added Recovery Record
LANGUAGE: English
FIX : KeyMaker -GQ
HomePage:

PassWord: