The Tiger And The Widow 1981 DVDRip XviD - YLTD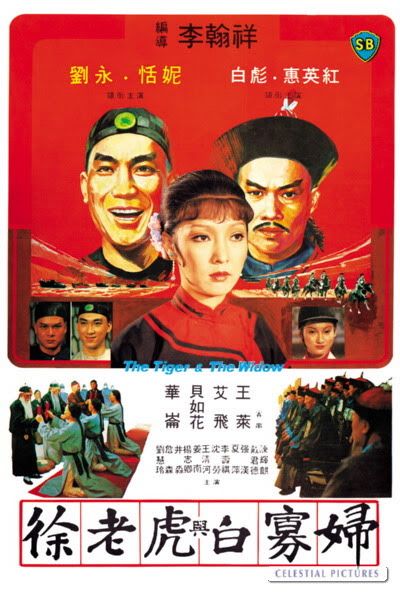 Genres: Drama
Crew & Cast:
Cast: Tanny Tien Ni
Pai Piao
Hui Ying-hung
Liu Yung
Producer: Mona Fong
Scriptwriter: Li Han-hsiang
Cinematographer: Lin Chao
Editing: Chiang Hsing-loong
Musical Director: Wang Ju-ren
Art Director / Set: Chen Ching-shen
Make-up: Wu Hsu-ching
Original Story: Kao Yang
Presented By: Run Run Shaw
The Liu Chia-liang trained Hui Ying-hung was considered the top action martial arts female star in the 1980s. It is her martial art abilities that Michelle Yeoh tries to emulate. In The Tiger And The Widow. Hui Ying-hung is somehow mixed up in a salt smuggling Ring that stinks of missing persons and dilemmas gone rotten. The film gathered two Golden Horse Awards in 1981; Best Costume Design and Best Art Direction.
A salt smuggling ring led by Pai Chiao-chu (Tanny Tien Ni) and "Tiger" Hsu (Liu Yung) is active in Anhui and Jiangsu during the reign of Kuang Hsu of Ching. Thanks to Pai's pull with the bureaucrats, they were very successful until confronted by a new officer, Li Chen-piao (Pai Piao). Li, a former sworn brother to Pai's late husband Lao Wu and Hsu, is subsequently ordered by Governor Liu Wen-lan to clamp down on salt smuggling and to bring Pai's ring to justice. To protect Hsu and her men, Pai decides to give herself up. She arranges with several underworlds leaders in Yangchow to approach Li for her surrender in exchange for the safety of her men. Pai agrees, and a date is fixed for her to appear at a hearing. After arranging the marriage of her cousin Chao Chung-hua to Mr. Sun's granddaughter Chin-mei (Hui Ying-hung), Pai disappears. When Hsu discovers this, she is already in custody in Nanking. A light sentence on Pai has been arranged, but the case is complicated when one of her men Tung Chin-piao (Chan Shen) informs the Governor of Tsao Yun Against Li and Governor Liu. Subsequently, an attempt is made on her life, but Hsu tries to rescue her.
File Name : The.Tiger.And.The.Widow.1981.DVDRip.XviD-YLTD.avi
File Size : 699 Mb.
[Movie]
Valid : Yes [AVI]
Duration : 01:26:02
Movie complete : Yes
[Video]
Resolution : 640x272
Codec : XviD MPEG-4 codec
FPS : 29,97
BitRate : 1047 Kbps
Quality Factor : 0,21 b/px
[Audio]
Codec : MPEG 1 or 2 Audio Layer 3 (MP3)
Number of channels : 2
Sample Rate : 48000 Hz
BitRate : 89 Kbps
The Happiest Moment 1973 DVDRip XviD - WRD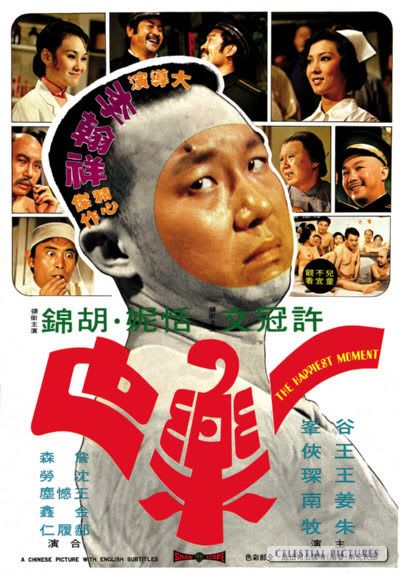 Genre: Comedy
Cast: Michael Hui Koon-Man
Tim Lei
Woo Gam
Guk Fung
Shum Lo
Chan Shen
Gam Yam
Chiang Nan
Kok Lee Yan
Wang Han Chen
Wong Hap
Wong Sam
Zhu Mu
Director:
Han Hsiang Li
Assistant Director :
Ma Fei, Wong To
Writer :
Li Han Hsiang
Cinematographer :
Lam Chiu
Music :
Chen Yung Yu
Costume Designer :
Liu Chi Yu
Art director :
Chan Ging Sam
Editor :
Chiang Hsing Lung
Production Manager :
Shen Chung
Sound Recording Engineer :
Wang Yong Hua
Lighting :
Yen Pai
Four Michael Huis for the price of one are on view in this top-five hit of that year. Following his stunning debut the previous year in "The Warlord", this three-chaptered erotic farce confirmed the stardom of Michael Hui as the new genius of Hong Kong comedy. Little wonder, since he plays a lecherous old man with aphrodesiac trouble, a police official turned V.D. inspector, and a barber's apprentice who encounters a lively corpse!
The Happiest Moment is a comedy based on 3 folk tales and gives popular film star Michael Hui the opportunity to display his marvelous acting skills in the roles of various characters that are sure to please viewers far and wide!
File Name : The.Happiest.Moment.1973.DVDRip.XviD-WRD.avi
File Size : 698 Mb.
[Movie]
Valid : Yes [AVI]
Duration : 01:30:52
Movie complete : Yes
[Video]
Resolution : 640x272
Codec : XviD MPEG-4 codec
FPS : 25,00
BitRate : 952 Kbps
Quality Factor : 0,22 b/px
[Audio]
Codec : MPEG 1 or 2 Audio Layer 3 (MP3)
Number of channels : 2
Sample Rate : 48000 Hz
BitRate : 122 Kbps
Fast Fingers 1983 DVDRip x264 - fÆRiE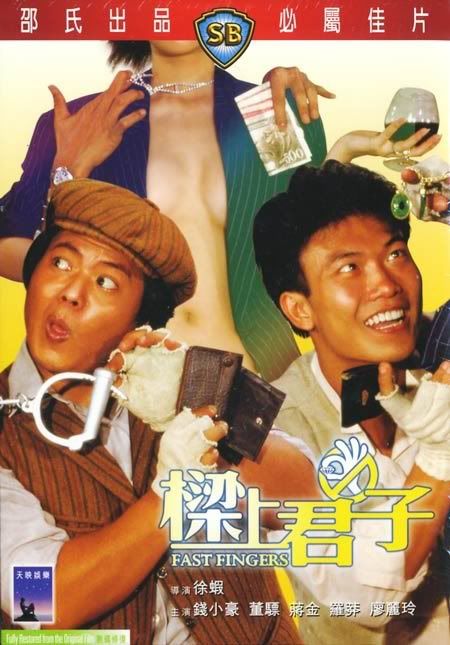 Genre: Comedy
Hsu Hsia directs this hilarious cult classic about two pickpockets who find themselves caught between a dedicated super cop and the cold-blooded criminal he's pursuing! The mischievous young thieves in question are Qiu (Chin Siu Ho, from Mr. Vampire) and Cheung (Chiang Kam), both of whom decide to join forces with Uncle Bill (Bill Tung Piu, from Rumble in the Bronx), their adopted guardian/mentor who just so happens to be an infamous master pickpocket in his own right! He's just been released from prison, and it seems that even after spending time in the big house, Bill has no desire to turn over a new leaf. In fact, he and his two proteges decide to combine their talents in the hopes of raking in a fortune in stolen goods. However, this magnificent trio is being watched like a hawk by a top policeman, Captain Wai (Law Mong, from Lion vs. Lion), who's dead-set on keeping his town free of the criminal element. But Captain Wai finds out that putting these thieves behind bars won't be as easy as he thought, especially when he learns that the woman he loves is actually Bill's daughter!
Things take a more serious turn when Dragon (Johnny Wong Lung Wai, from Dirty Ho), a club owner-turned-drug dealer, decides he wants to throw his muscle around in Wai's city. When the three thieves overhear Dragon's dastardly plan to murder one of Captain Wai's colleagues, an unlikely partnership is formed as the heroic lawman realizes he just might need Uncle Bill's gang of pickpockets to save the day! With its winning combination of martial arts action and over-the-top humor, Fast Fingers is a delightful kung fu comedy fresh from the Shaw Brothers film vault!
Gamblers Delight 1981 DVDRip XviD - Lemon998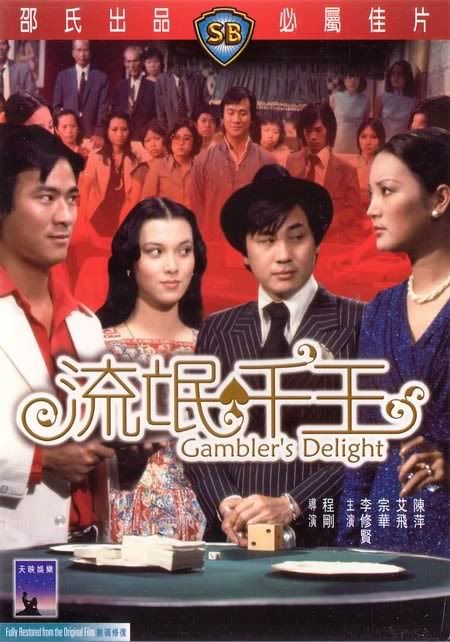 Genre: Drama
Talented writer Cheng Kang collaborated with Li Jung-chang and the incredibly prolific Szu Tu-an to concoct this adventure in wagering also known as The King of Gambler. The Killer star Danny Lee plays a two time loser willing to give his right arm (literally) to become a winner. He lies, cheats and steals his way into operating a plush casino, but when he incurs the wrath of a female Japanese gang leader, all bets are off!
File Name : Gamblers.Delight.1981.DVDRip.XviD-Lemon998.avi
File Size : 698 Mb.
[Movie]
Valid : Yes [AVI]
Duration : 01:27:54
Movie complete : Yes
[Video]
Resolution : 640x272
Codec : XviD MPEG-4 codec
FPS : 25,00
BitRate : 1015 Kbps
Quality Factor : 0,24 b/px
[Audio]
Codec : MPEG 1 or 2 Audio Layer 3 (MP3)
Number of channels : 1
Sample Rate : 48000 Hz
BitRate : 94 Kbps