10 Minute Solution Rapid Results Fat Burner - Catherine Chiarelli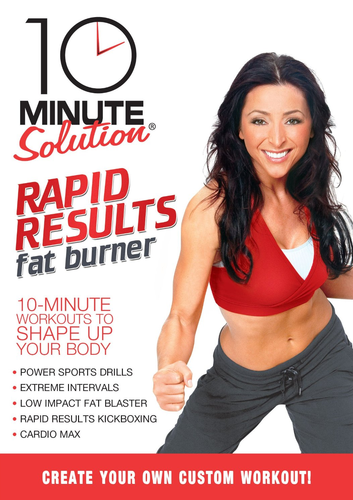 10 Minute Solution Rapid Results Fat Burner - Catherine Chiarelli
DVDRip | English | AVI | 672x513 | DivX ~1439 kbps | 29.97 fps | AC3 192 kbps | 00:52:09 | 613 MB
Genre: eLearning / Fitness
"We have the solution for you - the 10 Minute Solution! Everyone can find at least ten minutes in their day, and we've developed five fat burning routines that are just 10 minutes each. These powerful little cardio workouts were specially designed to give you rapid results! Compact and efficient, the 10 minute workouts fit into even the busiest of schedules. Split them into five separate workouts, mix and match your favorites to fit your schedule each day, or do them all together for one amazing, 50-minute fat obliterating session!
Five 10-minute segments, they're all fast-paced, energetic and effective. Each section uses a completely different cardio style. You can work out to all five, or program the DVD to play any segment in any order. You'll start with sports-inspired moves from soccer, skiing and volleyball. That's followed by the toughest segment - higher-impact aerobic/anaerobic intervals. Then it's classic low-impact "dance aerobics" and an empowering kickbox series. Finally, you'll finish with a high-impact/high-intensity cardio mix. They're all easy to follow with solid cuing. "
Power Sports Drills - This segment uses simple, powerful, easy-to-follow drills based on popular sports like soccer, skiing and volleyball to build agility and torch tons of calories.
Extreme Intervals - Get ready to push it to your limits - but only for a limited time! You'll alternate 15 seconds of high intensity exercise with 15 seconds of active recovery to really rev up your heart rate for EXTREME results.
Low Impact Fat Blaster - For this workout we flashed back to the old school cardio standards and put together the most effective, feel-good moves to help you burn lots of fat without lots of impact.
Rapid Results Kickboxing - If you want a leaner body with more muscle tone, then kick your workout into high gear! These heart pounding punch and kick combinations are designed to knockout fat and deliver accelerated results.
Cardio Max - Improve your overall fitness level as you work to increase fat loss. You'll start with simple but effective cardio moves and then pump up the intensity to make them cardio MAX moves. Give it your best effort and you'll get maximum results
About The Instructor: - Originally from Toronto, Cat Chiarelli (twitter.com/catchiarelli) is a certified group fitness instructor and celebrity fitness trainer in Los Angeles.
Fitness Level: Intermediate

Download From Filepost
* Please leave a comment if you liked my post !
** Search my posts to find more interesting stuff !