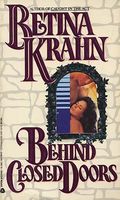 The second book in the Tudor series
UNDER THE QUEEN'S PROTECTIVE EYE
Beautiful, eager and innocent Corinna Huntington is swept up in the intrigues of the Tudor court - plunged into a world of ambition and treachery. Rampant with nefarious plots and bawdy pleasures.
IN THE HALLS OF A CONNIVING COURT
Manly and magnificent Count Rugar Kalisson swears vengeance on the insulting, overbearing English who hate and scorn him for his Swedish heritage - vowing to best Elizabeth's knights in contest...and her ladies in love.
BEHIND CLOSED DOORS
A sheltered English rose and a virile "Viking" nobleman are drawn together by rapturous and reckless passion - surrendering to the forbidden ecstasy of a bold, soul-bearing love that would inflame the wrath of a jealous Queen...and provoke a diplomatic scandal!
epub , pdf