Barbara Cartland - A Duke in Danger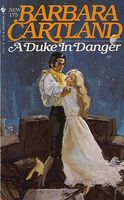 England, 1818.
Lady Alvina Harling tore from her bedroom and along the corridor towards the master suite on the other side of the castle. She turned the handle and went into the small and elegant hall. There was one light flickering low in a sconce on the wall which guided her to the Duke of Harlington's bedroom door which she opened without knocking.
The moonlight was diffusing the room with a magic iridescence which for the moment seemed almost blinding. Then she looked towards the bed and it appeared as if there was no one in it.
The idea that Ivar Harling was already dead made Alvina feel a pain pierce her heart as if it was a dagger. In that moment of agony, she knew that she loved him....