Katrina Britt – Take Back Your Love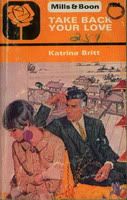 Two years ago Annabel had met and fallen in love with the fascinating Pierre Devigne, only to discover that he was not the marrying kind.
Now she came into contact with him again and found that his views on matrimony had changed. But the girl of his choice was to be the wealthy Marilyn Firbank. Did Annabel still care enough to fight for him?
html, lit