Meg Cabot - The Princess Diaries Contempoary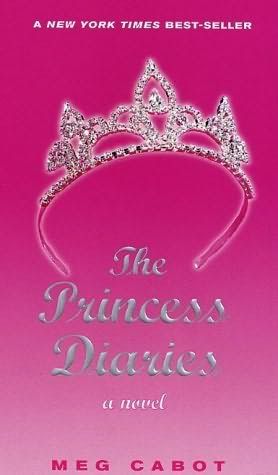 1. The Princess Diaries: Volume I (2000)
She's just a New York City girl living with her artist mom…
News flash: Dad is prince of Genovia. (So that's why a limo always meets her at the airport!)
Downer: Dad can't have any more kids. (So no heir to the throne.)
Shock of the century: Like it or not, Mia is prime princess material.
The worst part: Princess lessons from her dreaded grandmere, the dowager princess of Genovia, who thinks Mia has a thing or two to learn before she steps up to the throne.
Well, her father can lecture her until he's royal-blue in the face about her princessly duty no— way is she moving to Genovia and leaving Manhattan behind. But what's a girl to do when her name is PRINCESS AMELIA MIGNONETTE GRIMALDI THERMOPOLIS RENALDO?
2. Princess in the Spotlight: Volume II (2001) aka Take Two
No one ever said being a princess was easy.
Just when Mia thought she had the whole Princess thing under control, things get out of hand, fast. First there's an unexpected announcement from her mother. Then Grandmère arranges a national primetime interview for the brand-new crown princess of Genovia. On top of that, intriguing, exasperating letters from a secret admirer begin to arrive.
Before she even has the chance to wonder who those letters are from, Mia is swept up in a whirlwind of royal intrigue the likes of which hasn't been seen since volume I of The Princess Diaries.
3. Princess in Love: Volume III (2001) aka Third Time Lucky
Princess Mia may seem like the luckiest girl ever.
But the truth is, Mia spends all her time doing one of three things: preparing for her nerve-racking entrée into Genovian society, slogging through the congestion unique to Manhattan in December, and avoiding further smooching from her hapless boyfriend, Kenny.
For Mia, being princess is not the fairy tale it's supposed to be . . . or is it?
4. Princess in Waiting: Volume IV (2002) aka Mia Goes Fourth
Never before has the world seen such a princess.
Nor have her own subjects, for that matter. Mia's royal introduction to Genovia has mixed results: while her fashion sense is widely applauded, her position on the installation of public parking meters is met with resistance.
But the politics of bureaucracy are nothing next to Mia's real troubles. Between canceled dates with her long-sought-after royal consort, a second semester of the dreaded Algebra, more princess lessons from Grandmère as a result of the Genovian parking-meter thing, and the inability to stop gnawing on her fingernails, isn't there anything Mia is good at besides inheriting an unwanted royal title?
4.5 Project Princess: Volume IV and a half (2003)
Always looking to help the less fortunate, Genovia's princess is on her way to West Virginia to build homes with Housing for the Hopeful. Despite the problems she bravely faces -- sleeping in a tent on the ground, Port-O-Lets, insects, and corn at every meal -- Mia is focused on something much better: Michael's coming, and there will be much Grandmère-less time for making out. Thankfully, Mia gets plenty of kissing in with her hunky beau, and after a local family's new home brings the princess an extra dose of appreciation for hard work, she heads back to New York, where the conveniences of life remind her that there's "no place like home."
5. Princess in Pink: Volume V (2003) aka Give Me Five
The hilarious fifth installment of the #1 New York Times bestselling Princess Diaries--Will Mia attend the senior prom or not???
Mia Thermopolis (aka Princess Amelia Migonette Grimaldi Thermopolis Renaldo) has already won the hearts of millions of aspiring princesses. With the hardcover and audiobook publication to be followed by the release of Disney's sequel to The Princess Diaries movie in August 2004, the princess phenomenon will be in full swing throughout the year!
Girls will be overjoyed with this hilarious addition to their favorite series, which involves seven minutes in heaven, strikes, and Mia's mission to get asked to the senior prom.
6. Princess in Training: Volume VI (2004) aka Sixsational
Princess for president
Student body president, that is. It's all the fault of Princess Mia's power-mad best friend and campaign manager, Lilly, who nominates her in the first place. This is not how Mia imagined kicking off her sophomore year, even if Grandmère thinks ruling her high school makes good practice for ruling Genovia someday.
As usual, though, Mia has bigger problems to worry about. Sophomore Geometry appears to be just as hard as freshman Algebra, and a shocking B on her first English assignment has Mia reeling. And with Michael, her one true love, uptown at college, what is the point of even getting up for school in the morning? The last straw is what Lana whispers to her on the lunch line about what college boys expect of their girlfriends ...
Really, it's almost more than a princess in training can bear.
6.5 The Princess Present: Volume VI and a half (2004)
In a series of diary entries, Princess Mia describes celebrating Christmas with her friends in Genovia.
7. Party Princess: Volume VII (2006) aka Seventh Heaven
Princess just want to have fun
This spring, Mia's determined to have a good time, despite the fact that the student government over which she presides is suddenly broke. Fortunately (or unfortunately, depending on how you look at it) Grandmère has an elaborate scheme to simultaneously raise money, catapult Mia to theatrical fame, and link her romantically with an eligible teen bachelor, not her boyfriend. It's no wonder that Michael, the love of her life, seems to think she's a psycho, or worse: not much fun.
Is it possible that Mia, soon-to-be star of the stage, president of the student body, and future ruler of Genovia, doesn't know how to party?
7.5 Sweet Sixteen Princess: Volume VII and a half (2006)
Sixteen is the magic number
Mia doesn't always have the best luck with parties, so even though it's her sweet sixteenth, she doesn't want a birthday bash. As usual, Grandmère has other ideas, and thinks a reality TV special is just the thing in order to celebrate royally. The whole scheme smacks of Lilly's doing -- Lilly, whose own TV show is still only limited to local cable viewers.
Will Mia be able to stop Grandmère's plan? Will her friends ever forgive her if she does stop it, since it involves all of them taking the royal jet to Genovia for an extravaganza the likes of which would turn even Paris Hilton green with envy? Why can't Mia get what she really wants: an evening alone with Michael?
With a little luck, this sweet sixteen princess might just get her wish -- a birthday that's royally romantic.
8. Princess On the Brink: Volume VIII (2007) aka After Eight
At last, Mia is a junior. An upperclassperson. Free of her responsibilities as student body president. So why is it that everything is going so terribly wrong? What is she doing in Intro to Creative Writing? When she has made it through Algebra and Geometry, why must she be faced with Precalculus? And for the love of all that is Genovian, why has Lilly nominated her for school prez again? All this is nothing compared to the news Michael springs on her, however. On top of all the mathematical strife, her beloved boyfriend is leaving for Japan for a year. Precalc has nothing on preparing for the worst separation ever!
Turns out there is one way she might convince Michael to stay. But will she? Or won't she? No matter what, Mia seems headed for disaster.
9. Princess Mia (2008) aka To the Nines
A princess on her own . . .
Mia has been invited to speak at a gala for Domina Rei, an elite society of powerful businesswomen. But what could she possibly have to say? Now that Michael has broken things off, Mia can barely get out of bed, and her parents are making her see a therapist. School, where Lilly still refuses to speak to her and Lana suddenly wants to be bff, is a total nightmare. Even J.P.'s efforts to cheer Mia up (he's being really sweet!) aren't helping. What's a royal to do?
Just when things couldn't get worse, Mia uncovers an old family secret, a long-forgotten diary of a teenage princess of Genovia. It could be just the thing to help Mia write her speech—but it might also change the fate of the Renaldos forever.
10. Forever Princess (2009) aka Ten Out of Ten
Mia is about to turn eighteen and has decided to put down her princess pen for good. This is your one and only chance to find out how it all ends - including the answers to hotter than hot questions like: Is the practically perfect J.P. the real love of Mia's life? Will an election in Genovia mean the end of princessdom for Mia? Is she really the last virgin at Albert Einstein High? And finally, crucially, will Michael Moscovitz return from Japan and make a last-minute romantic gesture just in time to save our heroine from making a very big mistake? We could tell you how it all ends, but we'd have to send Mia's bodyguard Lars round to sort you out. You have so got to read the book!
Ransom My Heart (2009) A novel by Meg Cabot and Mia Thermopolis Historical Romance
Mia Thermopolis, Princess of Genovia and star of Meg Cabot's insanely popular #1 New York Times bestselling Princess Diaries books, has "penned" her first historical romance novel . . . with help from Meg Cabot
He's a tall, handsome knight with a secret. She's an adventurous beauty with more than a few secrets of her own. Finnula needs money for her sister's dowry, and fast. Hugo Fitzstephen, returning home to England from the Crusades with saddlebags of jewels, has money, and lots of it. What could be simpler than to kidnap him and hold him for ransom?
Well, for starters, Finnula could make the terrible mistake of falling in love with her hostage.
Princess Mia Thermopolis, Meg Cabot's most beloved character, has always been an outspoken animal-rights activist and committed environmentalist. In keeping with Mia's true spirit, Meg will be donating her advance to Greenpeace.