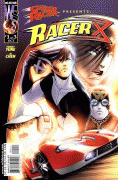 Quote:
writer/artist Tommy Yune

Enter Tommy Yune, WildStorm writer/artist extraordinaire and Speed Racer fanatic, whose new, three-issue Racer X mini-series hits stands today. Riding hot on the heels of the breakaway success of his Speed Racer prequel mini-series, Yune's Racer X three-parter endeavors to answer some of the questions surrounding Rex's past. Penned by Yune and illustrated by Jo Chen, the story is interlaced with the first mini-series and serves as yet another prequel to the classic TV series

In doing prequels, Yune's adding to a body of work that includes the original 1960s series, 1993's The Further Adventures of Speed Racer and even a full-blown anime remake by Tatsunoko in 1997. 'We took everything into consideration,' says Yune on the subject of continuity. 'We decided to stick with the original, because that's what the majority of the fans remember.'

So, beyond nostalgia, what can fans expect from this series? 'Basically, the underlying story is very dramatic--it's a romantic adventure at its core, if you can believe that!' says Yune. But that doesn't necessarily mean some mysterious woman influenced Rex's choice of lifestyle. 'No, Rex's lifestyle actually has a detriment on his personal life,' continues Yune. 'In a way, that's what makes this story tragic.'

This tragic, romantic adventure involves Rex's determination to become the world's racing champion. But fans interested in exploring Rex's career as an Interpol agent will have to wait for another series. 'This predates that,' says Yune, explaining that the story will hinge on racing, not spying. 'This is Rex's personal quest for redemption, his soul-searching. He's basically a racing prodigy, and as a brash youth, one of the things that he lacked was discipline and self-control. That's what initially gets him kicked out of his own father's racing team. As he travels to search for a basic sponsor, he finds a mentor--one who is, much to his surprise, even more reckless than he is.'

As it happens, savvy fans of the original TV series already know who the mentor is: Kabala, prince of Kapetapek, who was mentioned in episodes 16 and 17. This was the only time the series gave any real hint of Racer X's background, naming the man who taught Rex how to race in the mountains. 'It's a really great trivia question,' says Yune. 'And those who don't know [the show] are gonna think this is a kinda cool, new backstory.